I'll be the first to tell you I'm a grocery store Wandering Nomad. I hunt and I gather whatever it is on sale, catches my eye, or looks good. I don't plan meals (even though I'm home most of the day) and I sure don't make lists.
Here is what I had laying around:
A couple pounds of Ground Lean Turkey
A can of Campbell's Tomato Soup
Green Bell Peppers -3
A bit of Italian shredded cheese- 1/3 cp
Shack can of Parmesan cheese
White Rice- 2/3 cp
Fresh Basil, Chopped
Onions- 1 med, Diced
A handful of Grape Tomatoes, Diced/Sliced/Cubed
A handful of Mushrooms, Sliced
Lemon- Juice of 1
Spices: Sea Salt, Lemon Pepper, Oregano, Garlic
Assembly:
(Like Stuffing, all ingredients that need cooking like meats, must be cooked before baked.) In a large pan, brown turkey meat spiced with salt, pepper, oregano, and garlic. Add half the onions and cook until soft. Add basil and the small can of tomato soup.

Do not

add water to the soup. Simmer on medium. The tomato soup will cook down slightly.

Start your rice in cooker or stove top. Cut tomatoes by preference and slice mushrooms. Add both to remaining onion.
Cut the tops off the green peppers and clean out its guts. Assembly in the middle of a baking dish. Juice the lemon and pour on the outside of the peppers in the dish.
I add a tablespoon of the onion/mushroom/tomato mix to the bottom of each pepper.
Add the rest of the mixture to the cooking meat sauce.
The sauce should thicken by evaporation within 10-15 mins. Add rice to the sauce. (Like I said you need a large pan.)
Turn off the heat under the pan. Spoon mixture high into the peppers and cover with pepper lid. Spoon the rest of the rice and sauce around the peppers.
Sprinkle sugar and Parmesan cheese to the tops of the peppers. Cover loosely with tent Aluminum foil. Bake at 350*F for 25 minutes. The peppers should look less dark green. Take off the foil and let bake for an extra 5 mins to caramelize the pepper lids.
Let sit 5 mins. Add Italian Blend cheese to eat pepper lid and over rice on plate.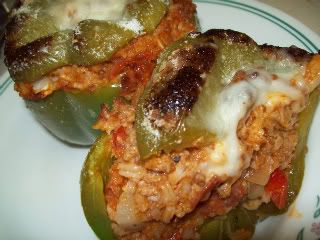 Enjoy~